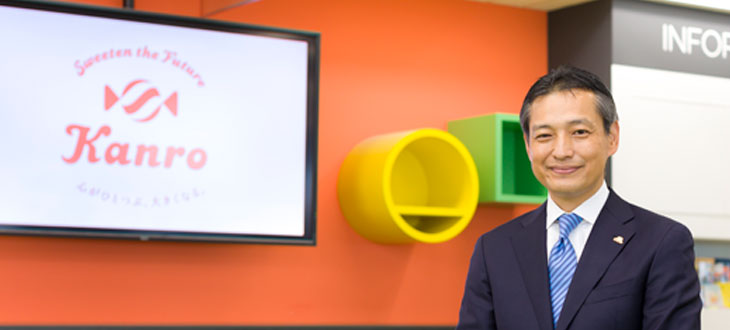 Introduction
Our history stretches back to the early twentieth century when Miyamoto Confectionary baked confections and traditional Japanese snacks. In 1955, we released Kanro Candy, and it was such a hit that we changed our name to Kanro. In Japan, our name is synonymous with candy, and our company has grown with the success of our many products that include, Kenko Nodoame (Healthy Cough-drops), Pure Gummy, and Kin no Milk (Golden Milk). Candy accounts for nearly 90% of our sales.
In 2017, we overhauled our corporate identity. It was our biggest corporate reform in forty years to adapt to a new business environment and worldview. Japan has changed, and customers have more snack options, leading to unmet, diverse, and complex needs. Producing products to meet these needs is more challenging than ever.
The world is changing and we have to change with it, continue growing, and contribute to our society and communities. These truths compelled us to reassess our values and strengths and develop a new vision that would drive us to serve the greater good.
Our Corporate Identity acts as a compass to guide us through the eddies of the years ahead as we steer the Kanro ship to a new and brighter future.
Working Only With
The Sweet Things
Sugar is the key ingredient in candy. As a candy maker, we have watched many dietary trends come and go, some that stigmatize sugar and some that accept it. Regardless, excess sugar intake results in health problems, but sugar isn't the enemy.
Sugar comes in many forms, and it has many positive effects on our bodies, when eaten in moderation. It's the only nutrient that goes directly to feeding the brain. When was the last time you were working late, and that little boost kept you going to finish the project? We're aware that many restrict their carbohydrate intake, and we support them by pursuing new and diverse options. However, our business is sweets, and we will continue to use sugar—nature's natural sweetener—as our core business.
Our corporate mission addresses our customers' needs and concerns as we continue pursuing what possibilities lie in sugar and its many forms.
Our Vision
Five corporate visions:
1. Contribute to an educated world on the benefits of sugar
2. Strive toward integrity and continue as a trusted brand
3. Maintain harmony with society
4. Provide a growth-centered and vibrant workplace
5. Develop into a global enterprise and contribute on a global scale
Corporate Strategy
We're working together to realize the five aspects of our long-term corporate vision described above, using a three-prong strategy:
1. Innovation in R&D
We will be focusing on two products using our expertise and experience:
a. Delicious, flavorful snacks that use natural ingredients
b. Solution-focused snacks that use cutting-edge technology and research to develop candies that meet customers' health and dietary needs
We feel we've set the bar high, and we've achieved a great deal with products such as Kanro Candy, Kenko Nodoame, Pure Gummy, and Kin no Milk. We hope to continue developing new technologies that make more products possible.
2. Enhanced Sustainability.
At Kanro, we believe the cornerstone of our social contributions is to improve our products and support healthy lifestyles. We engage in activities to give the public a better understanding of sugar. We also support employee health and encourage diversity in the workplace while improving safety and reliability. Sugar is our foundation, and we will continue to make improvements that take all our stakeholders into account.
3. Globalization Efforts
Asian economies have experienced remarkable growth in recent decades. Snack markets continue to grow and product quality continues to improve. With a strong base in the Japanese market, we're laying a foundation to enter multiple overseas markets, starting with our Asian neighbors. We feel our sweets should be putting smiles on faces around the world.
Kazuyasu Misu
CEO, Kanro Inc.