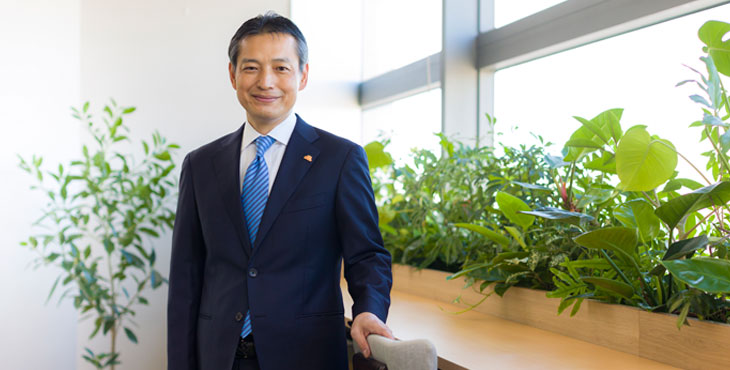 CEO
Kazuyasu Misu
Founded in 1912, Kanro takes great pride in our long history, primarily in the business of producing and selling candies. Over the years, Kanro has provided our customers with a wide range of products that anticipate social trends and the potential demands of the market. Our many products include Kanro Ame, which is our flagship product that bears the company's name. We make Kenko Nodo Ame healthy cough drops, a sugar-free candy series (Kin-no-Milk), which a fragrance- and coloring-free candy that expresses the pure goodness of milk, and Pure Gummy, a product which created the market for gummy candies that appeal to adult women.
In recent years, the business climate has changed. Today, the public demands not only the pursuit of economic value, but also expects companies to give back to society through corporate social responsibility (CSR) activities. Society wants companies to reduce their environmental impact, to improve corporate governance, and to become better places to work, all with the goal of contributing a more sustainable society. And these changes are happening at an ever-increasing rate of speed.
Kanro supports communities by providing aid to regions recovering from natural disasters and through our support of educational CSR activities. In response to changing times, we also contribute to society by partnering with children's aid organizations like the Red Cup Campaign*1 and Save the Children Japan.*2 We engage proactively in capital spending projects designed to reduce greenhouse gas emissions. With a view to improving our corporate governance, we installed a new organization to support stronger governance and work-style reform, reducing work hours and improving the quality of our workplaces.
We will continue to implement these policies. To enhance Kanro corporate value even further, we will seek the cooperation and support of our stakeholders both within the company and without. Kanro has adopted five materialities*4 from the 17 SDGs*3 identified by the United Nations. We developed these five materialities to contribute to a more sustainable society: (1)Creating value through "sweetness"; (2) Mitigataion of environmental load through business; (3)Safety and reliability of food; (4)Respect for human rights and the promotion of diversity; and (5) Corporate governance. We will engage with these materialities for sustainable business.
By making real contributions to deal with social issues through our business, Kanro will move forward to create new value for the next 100 years. I believe our products, which offer safe, reliable quality, as well as pure deliciousness and fun, can make meaningful contributions to the health and well-being of people not only in Japan, but also around the world.
Kanro will be a company that provides value to society, while realizing sustainable growth at the same time. We ask for your ongoing feedback, support, and encouragement as we strive to reach this goal.
*1 Red Cup Campaign: School feeding program by the United Nations World Food Programme (WFP)
*2 Save the Children: International children's aid organization recognized by the United Nations
*3 SDGs: UN development goals comprised of 17 goals and 169 targets for sustainable development
*4 Materialities: The determination of important CSR items through an evaluation and selection process, or those items themselves