Kanro is just a tiny company on our vast planet, but we are still taking steps to ensure that our beautiful natural environment is around for generations to come.

Human beings live more conveniently and comfortably than ever, but that convenience comes at a cost. We are now battling global warming, acid rain, deforestation, and a host of other environmental issues. Environmental problems are constantly in the news, and every one of them is heartbreaking. While we may not be able to do much, Kanro is committed to doing whatever it can.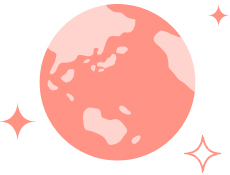 One of those steps is actively eliminating anything that can harm our environment.

The more modern a civilization becomes, the more harm it does to the environment. Strictly speaking, any use of things like paper or electricity has the potential to deplete our natural resources. Driving has negative environmental impacts. Throwing out garbage pollutes the soul.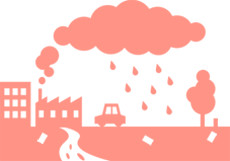 Here are some examples of what we're actually doing.

To start, in order to minimize our use of limited resources, we are careful to reduce the amount of paper we use by making double-sided copies, using projectors instead of handouts during meetings, and so on. We are also serious about recycling (we sort our garbage into seven different categories), and about minimizing the amount of electricity we use for our computers, lights, and so on.
At our production plants, we are working to minimize the amount of fuels, electricity, and well water we use by implementing efficient candy production strategies. We also do everything we can to reduce the amount of garbage we produce.
When it comes to the resources we use to package our candies, we keep a close eye on sales trends and place orders only for exactly what we need. This helps ensure that we don't waste any of the raw ingredients that go into making our products.
ISO 14001 certification
Our production plants use a lot of energy to heat and cool indoor manufacturing areas as well as to power the boiling, chilling, and other steps used to process raw materials during manufacturing itself. Our environmental management system is ISO 14001 certified, meaning that we make every effort to reduce energy usage and otherwise consider the environment in the course of our production activities.
More on ISO certification
The International Organization for Standardization (ISO) is an international body that develops and publishes international standards. ISO 14000 collectively refers to a series of standards related to environmental management.
| | |
| --- | --- |
| Certification | JIS Q 14001:2015 (ISO 14001:2015) |
| Registration No. | JSAE 204 |
| Date certified | February 23, 2000 |
| Registered company | Hikari Plant, Kanro Inc. (568 Takao, Kozuo, Hikari-shi, Yamaguchi Prefecture) |
| Registered scope | Candy production |
| Certification registry | Japanese Standards Association |

Certification
JIS Q 14001:2015 (ISO 14001:2015)
Registration No.
JSAE 351
Date certified
February 23, 2001
Registered company
Registered company: Matsumoto Plant and Asahi Plant, Kanro Inc.
Matsumoto Plant (6002-4 Sasaga, Matsumoto-shi, Nagano Prefecture)
Asahi Plant (2216-1 Yanakubo, Komi, Asahi-mura, Higashichikuma-gun, Nagano Prefecture)
Registered scope
Candy production
Registered scope at each site
Matsumoto Plant: Candy production
Asahi Plant: Production of gummi candy
Certification registry
Japanese Standards Association

The symbol above certifies that the environmental management systems at all of Kanro's business locations are registered with the Japanese Standards Association.
Solar power
Clean energy sources have become increasingly popular in recent years along with the growing interest in environmental issues and resource conservation. At Kanro, we installed solar panels at our Asahi Plant in June 2015. The electricity generated from these panels supports environmental conservation, as it is used by customers within the Chubu Electric Power Company service area. The system also includes monitors that allow us to see at a glance how much power the plant is using each day. This information can then be used to support environmental education programs for our employees.