We will develop our business in four areas to achieve the Kanro Vision 2030, which aims for further growth.
Core Business Division
Composition of sales in 2021
The Core Business Division merges the existing mainstay brand departments, which include the Kanro Ame & Kin no Milk Brand Department, Kenko Nodoame & Voice Care Nodoame Brand Department, Pure Gummy & Candemina Brand Department and Sugar-Free Products Brand Department, with the sales departments.
The division develops and strengthens our product brands.
In terms of domestic sales, we hold the largest share of the hard candy market*1 and the second largest share of the gummy market*2. Our focus is now on further increasing the market share of our existing mainstay brands, as well as boosting sales and profits.
*1 Hard candy market share No. 1: 20.7% (Source: INTAGE SRI+, Jan. – Dec. 2021)
*2 Gummy market share No. 2: 17.5% (Source: INTAGE SRI+, Jan. – Dec. 2021)
Global Business Division
The Global Business Division comprises the Export Team and the Overseas Business Team, which come under the Global Business Office.
The Export Team works on increasing business, primarily aiming at markets in China, Hong Kong and Taiwan. It also explores potential new export opportunities, along with developing exclusive products for overseas markets.
Meanwhile, the Overseas Business Team imports 4D Gummy products from the Chinese gummy manufacturer Shenzhen Amos Sweets & Foods Co., Ltd., and is working on increasing their sales and establishing them in the Japanese market.

Digital Commerce Business Division
The Digital Commerce Business Division includes the HITOTUBU Department, the Digital Business Development Office and the Digital Commerce Supervision Office.
The division manages HITOTUBU KANRO stores, which are directly overseen by the company, as well as our online store.
Having established Kanro POCKeT, the division is working on the commercialization of our D2C business, which includes launching HITOTUBU KANRO and online exclusive products.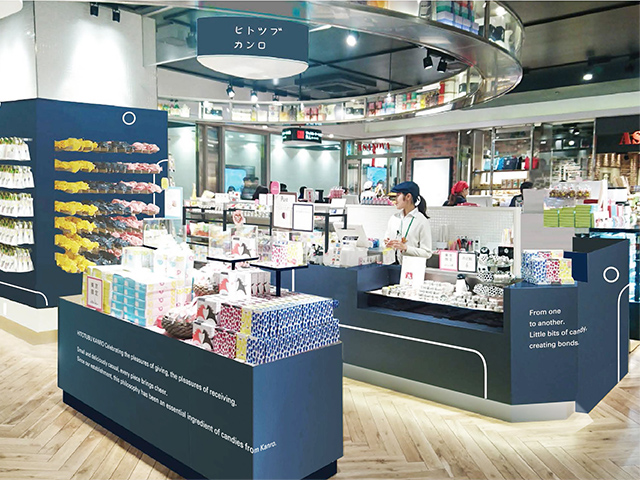 Future Design Business Division
Independent from our existing businesses, the Future Design Business Division focuses on new designs and innovations, looking ahead to future markets and customers.
Aiming to boost ESG management, the division has started grappling with repurposing misshapen and other waste candy that cannot be sold as is. The key concepts of this scheme are "sustainability" and "well-being."
Going forward, it will take on the challenge of building a circular economy in collaboration with outside companies.