Long-term vision
To make brighter futures infused with sweetness as the world's top confectionary.
Goals to achieve through the Medium-term Corporate Strategy "NewKANRO 2021"
Kanro works to reinforce its management base and become the leader in all aspects, including quality, brand, net sales and profit, and aims to be recognized by all stakeholders as the No. 1 candy manufacturer.
Quality

We place highest priority on quality and aim to become No. 1 in product quality as a candy manufacturer, delivering safe and reliable products to customers at all times.

Brand

We aim to be No. 1 in corporate recognition as a candy manufacturer and become a company which consumers feel most attached.

Net Sales & income

We aim to gain No.1 share in the candy market and achieve top level of profit in the industry.

Employee satisfaction

We leverage on the diversity of our employees and aim to establish top-class employee satisfaction in the industry.

Shareholder satisfaction

We aim to become a highly profitable company that can offer high rates of shareholder returns.

Social responsibility

We proactively engage ourselves in CSR activities and aim to be loved and trusted by all stakeholders including consumers, employees, shareholders, business partners, local communities and administrative bodies.
Profit and loss plan
It targets a dividend per share of ¥30 or greater.
Management policy
To become the No.1 company in candy manufacturing, under the "NewKANRO 2021," Kanro will undertake two major initiatives of "Growth strategy" and "Reinforcement of management base."
Growth strategy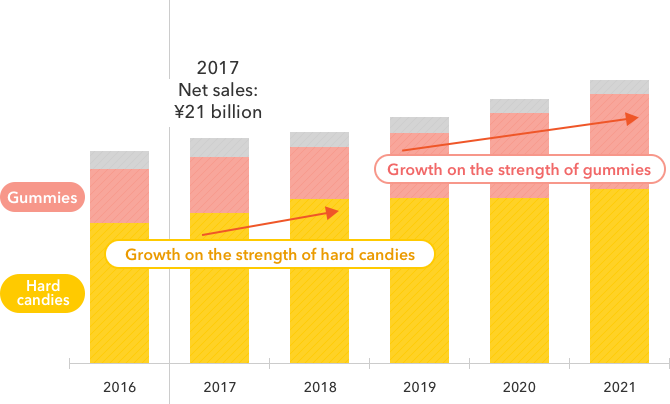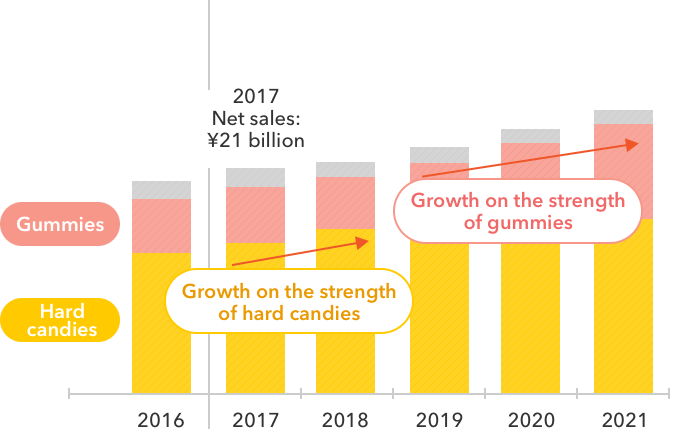 Gummies
We will position gummies as our growth engine and make investments aiming to double our sales.
The gummies market has been continuously growing in recent years. We see this as a market opportunity and will invest aggressively in this area to make it our growth engine to become the No. 1 company.
To double our sales, we will develop new gummy products while enhancing our existing brands. Capital investments will be made to increase production capacity.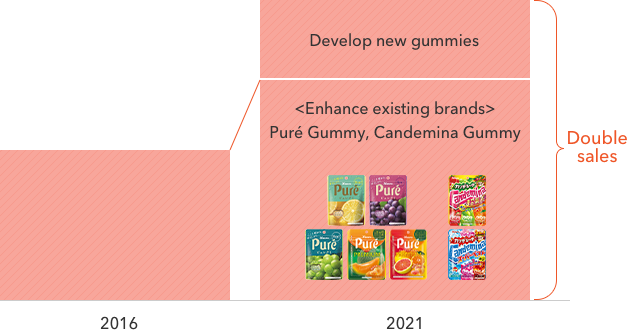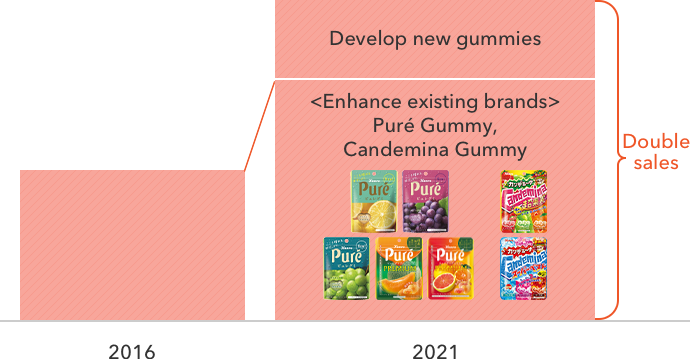 Hard candies
We will enhance our mainstay brands and develop new products to expand sales.
To expand our sales, we will concentrate our management resources on enhancing our high-potential mainstay brands while developing high value-added functional products and products with new type of deliciousness. For production, we will optimize our existing facilities and further improve production efficiency.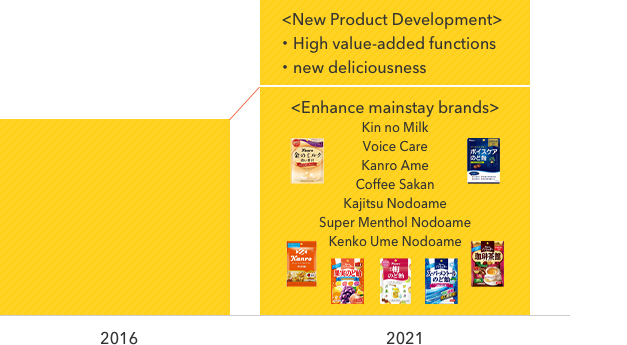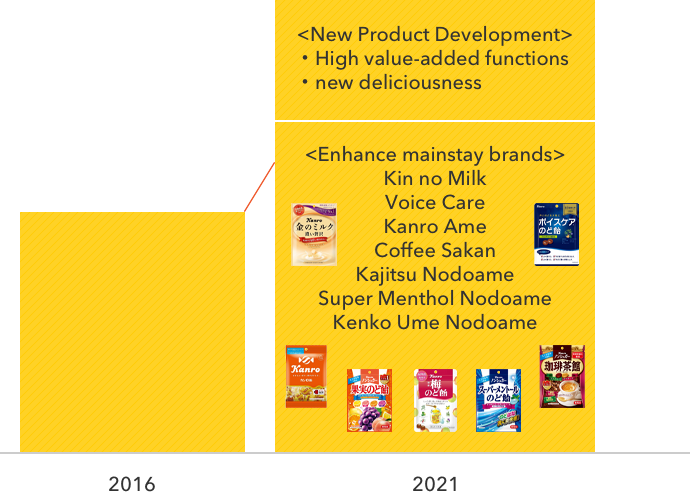 Capital Investments
With an aim to become the No. 1 company in candy manufacture, Kanro plans to make aggressive capital investments of approximately ¥6 billion over a five-year period for the construction of new gummy production lines as well as for new process facilities, quality improvements and information technologies.
Reinforcement of management base
We will undertake and strengthen the following initiatives:
Eliminate wastefulness

Eliminate waste over the entire process and rigorously pursue efficiency

Reduce cost of sales

Collaborate among all divisions to reduce the ratio of cost of sales

Improve personnel system

Make a transition to a personnel system that promotes diversity and offers enhanced personnel development.

Develop IT infrastructure

Develop IT infrastructure to enhance efficiencies in operations and communication.

Enhance quality assurance system

Strengthen quality auditing and standard review as well as expand the scope of audit and support the acquisition of FSSC22000 and other certifications.

Promote CSR activities

Promote activities that encourage employee participation to further instill CSR activities.
Status of the Medium-term Corporate Strategy "NewKANRO 2021"